Mila
Đisalov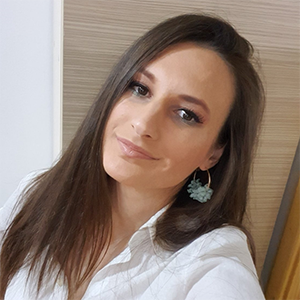 Zvanje: Istraživač-pripravnik u oblasti prirodno-matematičkih nauka – hemija-biohemija
Pozicija:Istraživač-pripravnik
Mila Đisalov je diplomirani biohemičar i master molekularne biologije. Trenutno je student doktorskih studija biohemije na Prirodno-matematičkom fakultetu u Novom Sadu i istraživač-pripravnik na Institutu BioSens. Njena glavna istraživačka interesovanja vezana su za razvoj biosenzora i molekularnih alata za detekciju patogena, ćelijska poljoprivreda i razvoj laboratorija na čipu. Mila je takođe jedan od osnivača studentske grupe The BioSense Alt. Protein Project, osnovane na Institutu BioSens.
Teme:
1. Biomolekularno inženjerstvo
2. Ćelijska poljoprivreda
Publikacije:
1. Djisalov M., Knežić T., Podunavac I., Živojević K., Radonić V., Knežević N., Bobrinetskiy I., Gadjanski I. Cultivating Multidisciplinarity: Manufacturing and Sensing Challenges in Cultured Meat Production. Biology 2021, 10(3), 204.
2. Omerović N., Djisalov M., Živojević K., Mladenović M., Vunduk J., Milenković I., Knežević N., Gadjanski I., Vidić J. Antimicrobial nanoparticles and biodegradable polymer composites for active food packaging applications. Comprehensive Reviews in Food Science and Food Safety. 2021; 1-28.
3. Radonić V., Birgermajer S., Podunavac I., Djisalov M., Gadjanski I., Kitić G. 2019. Microfluidic Sensor Based on Composite Left-Right Handed Transmission Line. Electronics, 8(12), 1475. doi:10.3390/electronics8121475.
4. Mandić M., Radonić V., Kitić G., Janković N., Knezević N., Kojić V., Gadjanski I. 2019. Developing sensors for monitoring cell culture parameters: impedance-based biomass measurements in novel
microbioreactors. Book of Abstracts. 5th International Scientific Conference on Cultured Meat; Maastricht, The Netherlands, October 6-8, 2019, p. 30; conference presentation.
5. Gadjanski I, Radonic V, Knezevic N, Kitic G, Kojic V, Mandic M, et al. REALSENSE1 – Monitoring of cell culture parameters using sensors for biomass and nutrients/metabolites in media: Lab-on-a-Chip (LOC) approach. Good Food Conference; San Francisco, USA, Sep 5, 2019.