Minja
Mladenović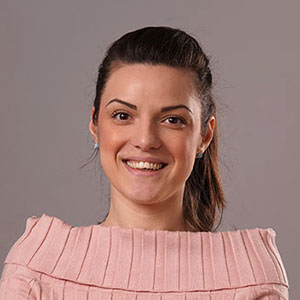 Zvanje: Istraživač-pripravnik u oblasti prirodno–matemaričkih nauka -hemija
Pozicija:Istraživač-pripravnik
Minja Mladenović je zaposlena na Institutu BioSens kao istraživač-pripravnik. Takođe, student je doktorskih akademskih studija hemije na Prirodno-matematičkom fakultetu Univerziteta u Novom Sadu, gde je završila osnovne i master studije hemije. Bavi se naučno-istraživačkim radom u oblasti sinteze, funkcionalizacije i karakterizacije nanomaterijala na bazi silike, kao i primenom istih za stimulisanu i kontrolisanu isporuku lekova i biomolekula.
Teme:
1. Silikatni nanomaterijali
2. Kompozitni filmovi
3. Primene u medicini
Publikacije:
1. Jović, B., Panić, M., Radnović, N., Živojević, K., Mladenović, M., Crnojević, V., & Knežević, N. (2020). Investigation of the surface interactions of selected amides with mesoporous silica using FTIR spectroscopy and hyperspectral imaging. Journal of Molecular Structure, 128562, DOI: 10.1016/j.molstruc.2020.128562
2. Savic, S., Vojisavljevic, K., Počuča-Nešić, M., Zivojevic, K., Mladenovic, M., & Knezevic, N. (2018). Hard template synthesis of nanomaterials based on mesoporous silica. Metallurgical and Materials Engineering, 24(4)., DOI: 10.30544/400.
3. Savić, S., Vojisavljević, K., Počuča-Nešić, M., Knežević, N., Mladenović, M., Đokić, V., Branković, Z., SBA-15 Assisted SnO2 Humidity Sensor, 5th Conference of The Serbian Society for Ceramic Materials, June 11-13, 2019, p. 135, Belgrade, Serbia, ISBN 978-86-80109-22-0.
4. Savić, S., Knežević, N., Radonić, V., Grabić, J., Živojević, K., Mladenović, M., Bubulj, S., Iron reduction filtration unit for agriculture irrigation, 2019, recognized by Scientific Council of Serbian Ministry of Education, Science and Technological Development.
5. Мladenović, M., Ilić, N., Кaluđerović, G., Knežević, N., pH-responsive delivery of anticancer metal complexes by functionalized mesoporous silica-based nanocarriers, 13th Conference for Young Scientists in Ceramics, October 16-19, 2019, p. 119, Novi Sad, Serbia, ISBN 978-86-6253-104-9.