Marko
Pavlović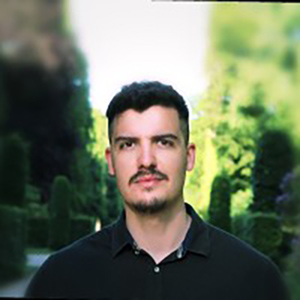 Position:Senior researcher
Dr Marko Pavlovic currently holds a Senior Researcher position in the field of Colloidal chemistry within the Centre for Biosystems at the BioSense Institute. He has received his BSc in Biochemistry (2013) and MSc in Analytical chemistry (2014) from the Department of Chemistry, Biochemistry and Environmental Protection, Faculty of Sciences, University of Novi Sad, Novi Sad, Serbia. Consequently, he obtained his PhD diploma in Colloidal Chemistry (2018) from the University of Geneva, Geneva, Switzerland, where he investigated interaction of colloidal nanoparticles and prepared several enzymatically active nanomaterials. He has been granted both, Early Postdoc mobility and Postdoc mobility funding, granted by Swiss National Science Foundation, for a postdoctoral study at Max Planck Institute of Colloids and Interfaces, Golm, Germany and Harvard University, Cambridge, MA, USA. During his stay at Max Planck Institute of Colloids and Interfaces, Golm, Germany, he studied enzyme kinetics in aqueous two phase systems, proposed a novel approach for a preparation of multiphase water droplets, developed a new enzymatic assay for dextranase and investigated droplet chemotaxis. His current interests are primarily related to a manufacturing of a droplet-based sensors for a detection of numerous analytes, ranging from simple salts to complex biological systems, like pollen grains.
Publications:
1. Pavlovic, M.; Plucinski, A.; Zeininger, L.; Schmidt, B., Temperature sensitive water-in-water emulsions. Chem Commun 2020, 56 (50), 6814-6817.
2. Pavlovic, M.; Antonietti, M.; Schmidt, B. V. K. J.; Zeininger, L., Responsive Janus and Cerberus emulsions via temperature-induced phase separation in aqueous polymer mixtures. Journal of Colloid and Interface Science 2020, 575, 88-95.
3. Franco, C.; Rodríguez-San-Miguel, D.; Sorrenti, A.; Sevim, S.; Pons, R.; Platero-Prats, A. E.; Pavlovic, M.; Szilágyi, I.; Ruiz Gonzalez, M. L.; González-Calbet, J. M.; Bochicchio, D.; Pesce, L.; Pavan, G. M.; Imaz, I.; Cano-Sarabia, M.; Maspoch, D.; Pané, S.; de Mello, A. J.; Zamora, F.; Puigmartí-Luis, J., Biomimetic Synthesis of Sub-20 nm Covalent Organic Frameworks in Water. Journal of the American Chemical Society 2020, 142 (7), 3540-3547.
4. Pavlovic, M.; Rouster, P.; Szilagyi, I., Synthesis and formulation of functional bionanomaterials with superoxide dismutase activity. Nanoscale 2017, 9 (1), 369-379.
5. Pavlovic, M.; Huber, R.; Adok-Sipiczki, M.; Nardin, C.; Szilagyi, I., Ion specific effects on the stability of layered double hydroxide colloids. Soft Matter 2016, 12 (17), 4024-4033.